DIVING CYLINDER INSPECTION
Do you want to have your diving cylinder inspected? Procylma is a specialist in the inspection of diving cylinders. Suitable for diving clubs and shooting clubs, among others.
WANT TO HAVE YOUR DIVING CYLINDER TESTED? PROCYLMA HELPS
In the Netherlands it is compulsory to have your diving cylinder inspected every five years. Our employees will make sure that you can safely enter the water again with an approved diving cylinder. Procylma also inspects (composite) cylinders for shooting sports. We do this according to the current guidelines, under the authority of Lloyd's Register (WBDA and ADR) and Apragaz (TPED). The Procylma employees are fully authorised to carry out the inspection of your cylinder. You are therefore assured of a safe diving cylinder that has been inspected in accordance with the current standards.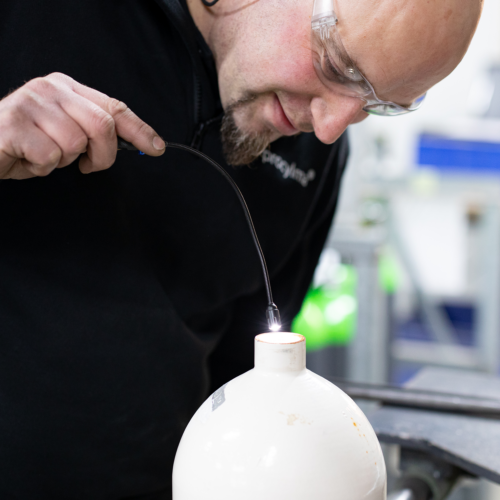 Drop-off points throughout the Netherlands
You can have your diving cylinder inspected at our office in Drachten. Upon returning your diving cylinder you will immediately receive an indication of the work involved, including any additional maintenance required in accordance with the applicable guidelines. You can also make use of various drop-off points throughout the Netherlands. This makes Procylma accessible to everyone in the Netherlands.
Click below for an overview of our collection points. Would you also like to become a drop-off point? Please contact us.
DIVING CYLINDER INSPECTION? THESE ARE OUR ACTIVITIES
Procylma provides the inspection of your cylinder for diving or shooting sports and any necessary maintenance. Our activities include:
Re-inspection of steel and aluminium cylinders.
Re-inspection of composite cylinders (shooting sport).
The external blasting and spraying of the cylinder, including the application of a special protective high solid zinc-containing undercoat and finishing in various colours.
If there is (fly) rust, we will blast the cylinder internally, rinse it carefully and dry it.
In case of contamination (e.g. oil) we will O2-clean the cylinders with a special industrial cleaner.
Providing your diving valve with a maintenance service. Critical parts are replaced and the valve is cleaned ultrasonically. When you return the valve, you will receive the accompanying service report linked to the report of your cylinder.
A service to your diving machine. We do this for almost all brands.
Sale of cranes, cylinders etc.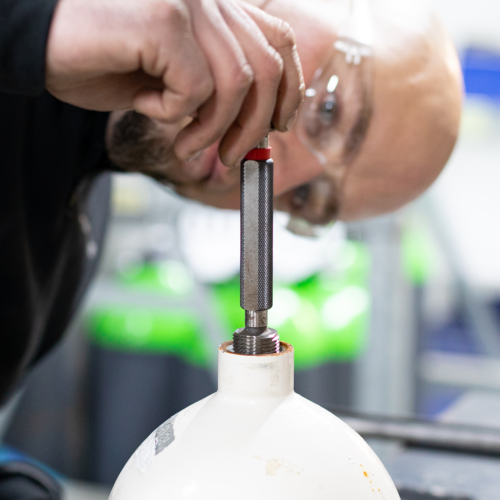 Questions or more information about the inspection of your diving cylinder? Please contact Procylma at info@procylma.nl or call 0566-622322.